Welcome to Bushikan Aikido Westford, MA
Aikido of Middlesex County has become Bushikan Aikido, a dojo offering a unique and powerful style of style of Aikido.
Serving Southern New Hampshire and Northern Massachusetts, Bushikan Aikido offers a practical and functional martial art. Combining the beauty and elegance of Aikido with the severe and functional Tenshin technique, Bushikan Aikido has something to offer to any and all martial artists.
Built upon the ancient art of Budo, and incorporating a system of deflections and precise movements, Bushikan Aikido provides a unique, effective and serious martial art for those seeking serious self defense.
This solid foundation melds the old with the new; training in both traditional and modern day attacks. Attacks that include Shomenuchi and Yokomenuchi, all the way up to jabs, grabs and kick-punch and multiple-strike combinations.
Enhance your martial skills beyond striking! Learn to control your opponent, and use his strength and aggression against him. Learn how not to get hit, grabbed or pushed. And most importantly, learn to use these types of attacks against your aggressor.
Fitness can be much more engaging than lifting weights, running on a treadmill or riding a stationary bike. Come make friends and earn skills that will last you a lifetime.
So contact us today and experience a unique type of martial art!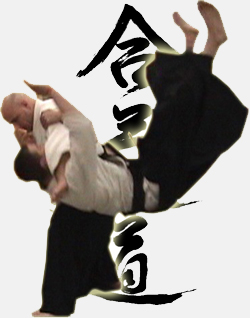 Located in northern Westford, MA 25 minutes north of Boston and 15 minutes from New Hampshire
We are minutes from Nashua, Tyngsboro, Lowell, Chelmsford, Westford and easily accessible from Manchester New Hampshire all the way to Boston.
Whats New
November 2013: Tenshin Seminar in PA!


Bushinkan Aikido in East Norriton PA will be hosting Sinclair Sensei for 2013's annual Tenshin Aikido Foundations seminar on Saturday December 7th from 12:30 to 5:30. This seminar will cover ukemi, taiso, deflections and applied techniques. Perfect for those new to the art or those martial artists who have been curious about Tenshin Aikido.

All levels are welcome, but space is very limited. Registration at the door has been closed, so call to reserve your spot today.

Bushinkan Aikido
Located at:
iROY Sport Fitness Center
1010 West Germantown Pike
East Norriton, PA 19403
Dojo PHONE: (610) 948-4598







Septempber 2013: Buddhism


Ever wonder about the foundation of zen? Ever wonder about the religion or ways of the samurai? Do you know of Buddhism but are confused by all the different flavors and versions?

In a special session on September 15th (9:30am), Joshua Hatcher will be giving a 60 minute class on the history, basics and meditation of buddhism and how it fits into the path of Budo. Join us for this unique opportunity.

The session will be held in a beautiful Japanese garden not far from the dojo, just after the Sunday morning class. Please arrive on time or call ahead.

Special thanks to Josh and Tanmoy for putting this on!






August 2013: The Torque shirts have arrived!


We make no attempts to hide the secrets of Bushikan's Aikido. In fact we wear them right on our shirts.

Anyone whom has ever attended a class in the Bushikan Dojo will be familiar with Sensei's common phrase: "Torque! Torque! Don't push, don't pull, move Uke with torque!"

Now immortalized, The original lot of shirts were meant as a geeky joke, sporting the formula for torque on the back with a small Bushikan logo on the left front. But the shirts have turned out to be largely popular and only a few sizes are left. If we do not have your size, please order now and we will hold one for you when the next lot comes in.

Each torque shirt is $15. Real torque is free with each lesson.






May 2013: Bushikan Launches TV Program


If you have every wondered what it was like in the Bushikan Dojo, here is your chance to get an inside peek from the comfort of your own home.

In May of 2013 Bushikan Aikido and Westford CAT teamed up to bring you 'Bushikan' a self defense TV program aimed at sharing some of the techniques we practice right here in the dojo. Just as a tease, view the title sequence here.


So if you live in or around Westford Mass, tune in and catch us on channel 8, then stop by and join us for the next taping!





Feb 2013: Facebook


It has recently been brought to my attention that our Facebook page has far more content for those seeking videos and photos.

So we have linked the two sites together. Use the link on the left nav to connect to our site on Facebook. Click through to see photos with Seagal Shihan, Freeman Sensei, Araujo Sensei and many videos of Sinclair Sensei performing individual techniques.


Due to its ease of use, our Facebook page is where all our newest news regarding class schedule changes, upcoming events, updates and news will be announced first. To stay on top of things check here first.





Feb 2013: Try us out!


Spring is just around the corner and the winter has people going stir crazy.

Stop by in the month of February and try a class out on us!

This is the perfect opportunity to see what the Bushikan Aikido can do for you. Get your questions answered on the mat by our top knotch instructors. Feel the techniques for yourself as we break down each movement into easy to understand steps.

It has been said that studying Bushikan Aikido is like 'knowing a secret no one else knows'. Stop in and learn some secrets!


Current Schedule:
Tues: 7:30 pm
Thurs: 7:30 pm
Fri: 7:30 pm
Sun: 8:00 am


Our only requirements are loose clothing and a willingness to learn!
See you on the mat!